Party Buffet now seems to be the preferred choice of the people of young age, want something new, khác lạ so với loại Parties round 10 the framework and uncomfortable, inconvenience in exchange, talk among the guests at the party. A session tiệc Buffet exchange offer, talk more widely, that the stranger pulled closer distance.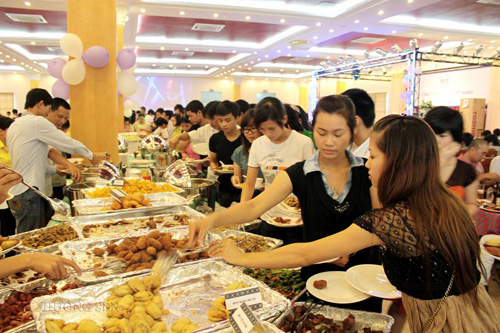 You will choose a party Buffet While your guests will enjoy the flavor of many dishes from different regions and different countries; from the salad, rau củ, fish, to fish rich desserts such as fruit, cakes, juice, … or a dinner table with a limited food. This question asks you to consider their preferences and the number of guests expected of you.
You have chosen an event tiệc Buffet instead of dinner tables in, By now, you should plan to organize – embark, but you have too many problems to solve, you can relate to tiecBuffet.com | FOOD & EVENT assist you in planning an event tiệc Buffet smooth, succeed.
With years of experience in the field party organization, we are confident will give you a good buffet service organizations and suit your needs. Please pick up the phone and call tiecBuffet.com | FOOD & EVENT to receive counseling and enthusiastic service, Front end; also very professional.
More Articles
For further information please contact us at the information below to receive a quote for the services your event with specific content.
CONTACT YOUR EVENT
YTC Company
66 Bau Cat 1 - P14 - Q. Tan Binh - HCMC

028 5444 0482 - 028 5444 0482

Overtime: 0972 789 740 ( ms Thanh,vi )
Website : TiecBuffet.com
: Xem Facebook